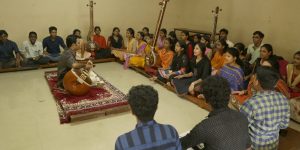 Courses offered
BA Degree in Vocal
MA Degree in Vocal
Course design, Objectives, What to expect
B.A Vocal Degree
Aim of the Programme: To impart the basics of Classical Carnatic music and to introduce to every aspect of singing and performing.
Eligibility for Admissions: Plus two
Criteria: Should pass an aptitude test
The practical oriented U G Programme in Vocal is a 3-year programme divided into 6 semesters. Each semester includes:
Common courses
Core courses
Complimentary courses
Elective courses &
Project.
The first Semester begins with the basics of Carnatic music where the students are trained to understand and render the swarasthanas with its Akara.
Complimentary course is an introduction to an instrument of their choice – Veena/Violin/Mridangam which helps the students to improve the basics of Music simultaneously.
The course becomes advanced with each semester.
In the final Semester, students are taught the various aspects related to a concert and are trained to perform on stage.
M.A Vocal Degree
Aim of the Programme: To enhance with a deeper knowledge of music and performing concerts and teaching.
Eligibility for Admissions: BA Music (50%)
The practical oriented PG Programme in Vocal is a 2-year programme divided into 4 semesters.
The program's coursework aims to provide the students with a solid conceptual framework and a theoretical foundation on music.
It develops the knowledge and skills through learning various concepts and values of music
It equips the students to confidently engage in the practice of concerts, group practice, research, and direction.
There are a number of promising career opportunities open for these graduates in the music field like teaching, doing concerts, sound engineering, media and film industries.
Events
Considering the Covid 19 pandemic situation seminars, workshops and other events were suspended for the time being.
Faculty Details
| | | | | |
| --- | --- | --- | --- | --- |
| Sl No. | Post | Name | Qualification | Mail Id |
| 1. | Lecturer & HOD | Dr. Sangita Tresa Samson | Mphil, PhD | vocalhodrlv@gmail.com |
| 2. | Lecturer | Baby P | MA, Mphil | |
| 3. | Lecturer | Dr. Asha Sukumaran | Mphil, PhD | ashajp2009@gmail.com |
| 4. | Lecturer | Sithara V | MA, Mphil | sithara.vaikundan@gmail.com |
| 5. | Lecturer | Dr. Resmi R Chandran | MA, PhD | resmiarun78@gmail.com |
| 6. | Lecturer | Dr. Divya A | Mphil, PhD | divyapraveen35@gmail.com |
Musicology
| | | | |
| --- | --- | --- | --- |
| 1. | Arun v Kumar | MA, bed net | arunvdharan@gmail.com |
Guest Lecturer
| | | | |
| --- | --- | --- | --- |
| 1. | Vedarashmi K J | MA, Mphil | vedarashmi@gmail.com |
Students Details
| | | |
| --- | --- | --- |
| Degree | No. of Students | Total Seat |
| 1st year BA Degree | 46 | 50 |
| 2nd year BA Degree | 44 | 50 |
| 3rd year BA Degree | 44 | 50 |
| 1st year MA | 12 | 12 |
| 2nd year MA | 11 | 12 |